And here we get to some of the designs that can be considered "kinda big." First up is the "Enzmann Starship." It seems to have caught the imagination of a notable fraction of the space-nut population in the early 1970's; it certainly looked like the first practical, well-thought-out manned starship design. And while a fair deal of really good art and diagrams was produced, the numbers… they don't seem to add up so well. It's been a challenge to determine just how much engineering rigor went into this design. The C-size drawing for this beast is 1/2400 scale.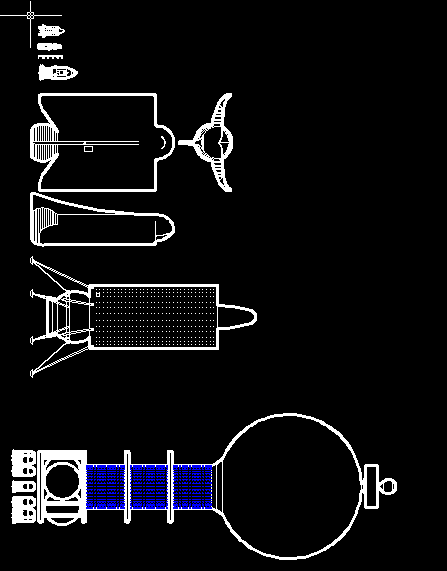 And here is yet another one from Dandrige Cole, an internal-nuclear pulse vehicle that was meant to be a wholly self-supporting space colony, on the same order of size as Babylon 5. But able to move itself about. C-size drawing is 1/6000 scale.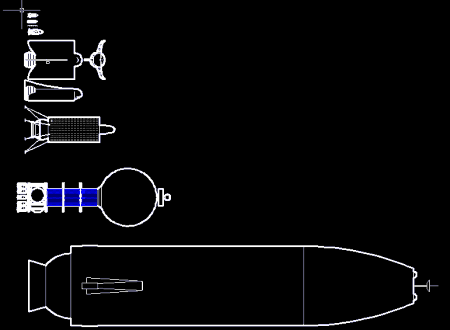 The next step up is also a step down. Johndale Solem's Medusa is a recent design for an Orion-type craft that uses a lightweight spinnaker instead of a solid pusher plate; in order to gain enough distance from the nuclear detonations so that the plastic cables and "sail" don't get fried by the nuclear radiation, the dimensions are measured in kilometers.  But the core vehicle itself is relatively really quite small. The scale on the C-size drawing is 1/30,000.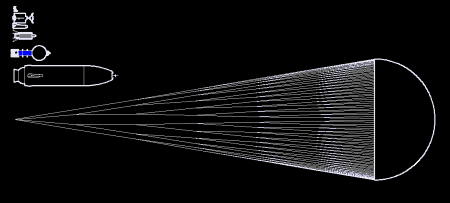 And last up is far and away the largest space vehicle that I've ever seen seriously considered (at least that I can recall). It is a Bond/Martin design for a nuclear-pulse-propelled "world ship," big enough to carry complete ecosystems on journeys lasting millenia, to colonise and terraform alien worlds. While the design is admittedly wholly hypothetical, and was meant more as an excercise to see what might be possible with a vaster industrial infrastructure but with physics and engineering we know today, the math behind the concept seems sound, and is more detailed than many other designs I've seen.
The C-size drawing is scaled at 1/600,000.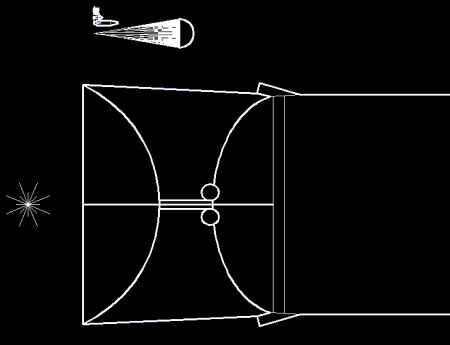 Note in the closeup of the engine section that the largest of the other vehicles are mere specks in comparison. In fact, even though the acceleration was a small fraction of a G, and would have lasted for decades, the pulse units themselves would have been astounding feats of engineering. More massive than the Orion Battleship, each pulse unit would have had a yield measured in *gigatons.* One every five seconds.
Two versions were contemplated… a "dry world" with a large hollow rotating cylinder with a terrestrial ecosystem on the inside; and a "wet world" with a much smaller cylinder, sized to support an ocean a kilometer deep (perhaps overly deep, IMO). The "wet world" would have, unsurprisingly, been notably more massive, and would have required the greatest propellant supply and most powerful (34+ gigaton) pulse units, massing over 7,000 tons each.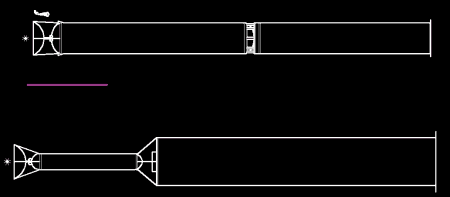 That little purple line? Fifty kilometers.
With the possible exception of the Medusa, these designs are well beyond our current capabilities. But a damned good way to improve our capabilities is to have something to strive for. Spacecraft such as these can fire the imagination in a way that rinky-dink little capsules cannot. Spacecraft so large that they have their own weather, that can carry not just humanity but all the forms of life on Earth, to other solar systems… how can you look at that and not be inspired, even if just a little bit?
Far more info than this, on far more projects than these, will be presented in the "Nuclear Pulse Propulsion" book.