It will, I imagine, come as almost zero surprise that I've long been a fan of the various "Star Trek" blueprint sets produced over the years by fans and professionals. They range from the "why did you even bother when you had to know you had neither skill nor talent" to the "I want to frame that and hang it on my wall." In my opinion, just as a matter of aesthetics, the best ones were produced in the 70's and early 80's (the original Franz Joseph "Constitution Class" set, the McMaster "Klingon Book of Plans," the Dreadnought, etc.). These were drafted by hand. The errors are in evidence, inconsistencies can be readily found, imprecisenesses here and there, a whole raft of unfortunate things that were eliminated when people started doing this sort of thing on the computer. And when vector graphics, CAD systems and 3D modeling came in and cleaned everything up, a little bit of the art seemed to go out of the enterprise. Dunno… maybe it's just me.
So, promptly after pointing out that I prefer hand0drawn over computer aided…. here's the beginnings of my own stab at the art form, done entirely on computer.
Something I have been working on for quite some time is a series of 2D diagrams of the "Messiah" spacecraft from Deep Impact. This is an outgrowth of the 3D CAD model of the Messiah I made for Fantastic Plastic (I gather there were some hiccups in the process, but I understand that things are back on track) a year and a half ago. This is the very definition of a "back burner" project; it's not a secondary effort, not even a tertiary effort. There are paying gigs ahead of it. Still, going in and tapping away at it from time to time is a good way to destress from the other projects.
I'd spent a long time considering what to do with "Messiah." Options included some sort of book/magazine/thing, or one or more large format (24X36, say) prints, or even cyanotype blueprints (I did in fact make a grand total of two *very* large Messiah blueprints, quite a while back… a year and a half, as it turns out). But I've decided to adopt the "Book Of General Plans" format. In this case,a  set of prints, say, 11 inches by 36, folded and in an envelope. Retro!
The Messiah would cover about half a dozen sheets, plus or minus. A lot depends on scale. The image below (purple coloring just a drawing aid, will go to black before printing) shows the 2D diagram in 1/200 scale… which is a quite large sheet. Below that you can see a rectangle, 24X36 inches, subdivided into two 11X36 strips. At 1/200, the plan view of the ship will just fit. Thus, there'd be one sheet for the top view, one for the bottom, one for the side, one for the fore/aft. There are also a number of scrap views…the Shuttle/lander in both flight and landing configuration, details of the Orion booster section, an inboard profile, others.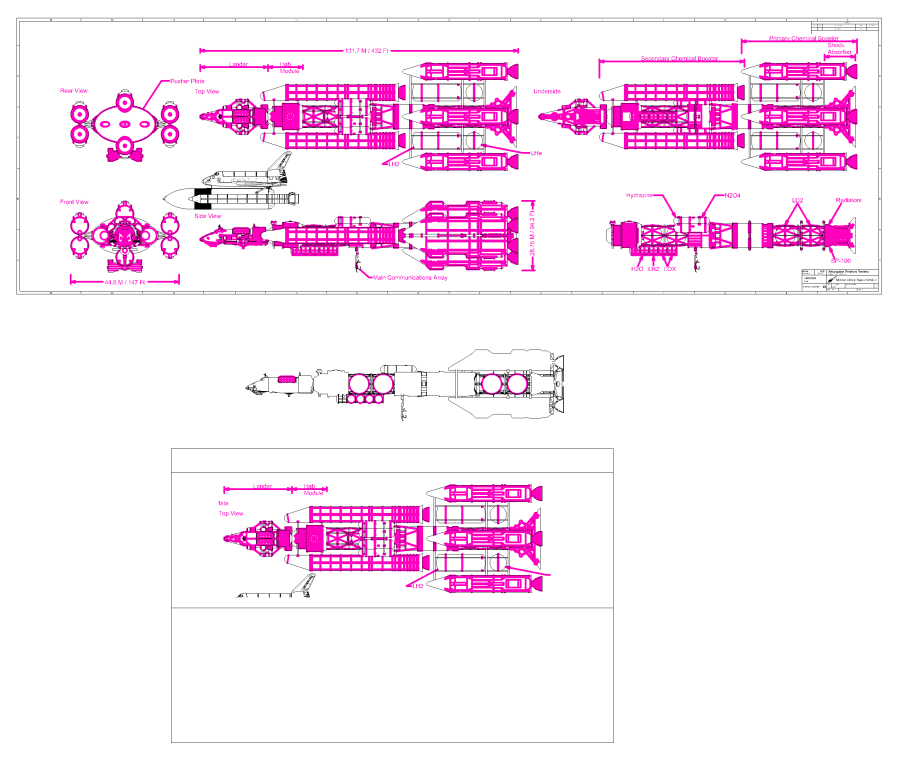 Here's a quick look at a small fraction of the illustrations created of the lander: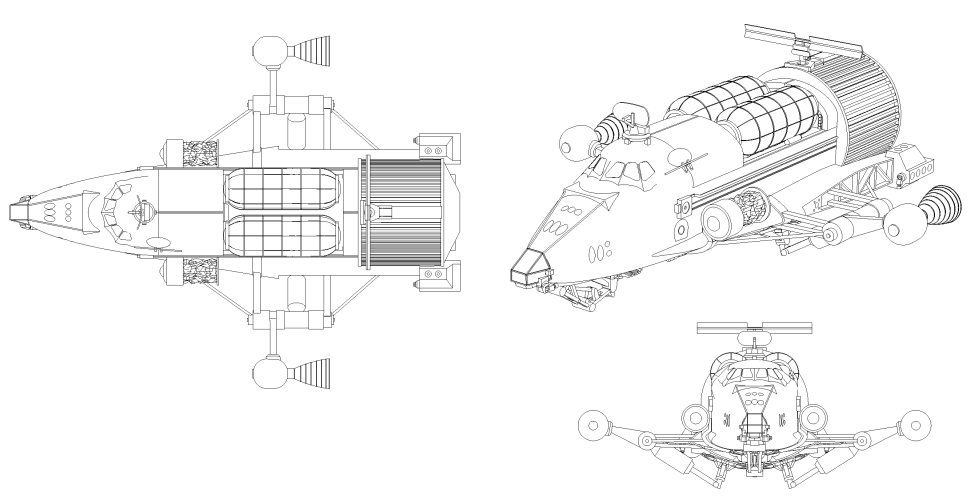 Along with the diagrams there'd also be "in universe" text and data, with my best efforts to rationalize the design. In the case of Messiah… it's powered by a wandwavy form of nuclear pulse that uses bomblets that are more akin to "nuclear hand grenades," with explosions that are slightly oblate rather than spherical… justifying the elliptical pusher plate. The large chemical boosters are liquid systems filled with high-energy space-storable propellants… FLOX burning with a kero-boron slurry. The aft boosters look like Energia boosters; the forward boosters look like Ariane V boosters, but in both cases they are much larger than the originals. This was done because… ummm… well, they were in a hurry (so they copied what they had), and they were working in secret (so they made the boosters look like things people had seen before, so if they were photographed at a distance they could be passed off as the more mundane boosters… yeah, that's it…).
I'm doing this (veeerrry slowly) because I'm just that much of a geek. Anybody else interested? If I have 'em printed off in quantity, I'm thinking of selling them for around $20 a set, on a print run of *maybe* twenty.
After Messiah, there are a number of other designs I'd like to do the same with. 10-meters USAF Orion (real design). 4,000 ton Orion Battleship (Pax Orionis). Helicarrier (Avengers). USS Ascension (from the miniseries of the same name… oy, the monkeymotions to rationalize that).