So pretty much all day today I've been dealing with getting a book assembled. It's of unusual format (11 inch-high pages about 40 inches long) and of only 27 pages length, but it cost enough to have printed that I only got ten. And so today I ran my butt 40 miles down the road to the print shop to get it (and a few other things that were printed), and once I got home I've spent the rest of the day dealing with these project. After many hours futzing around, I have a grand total of one copy of the book all assembled.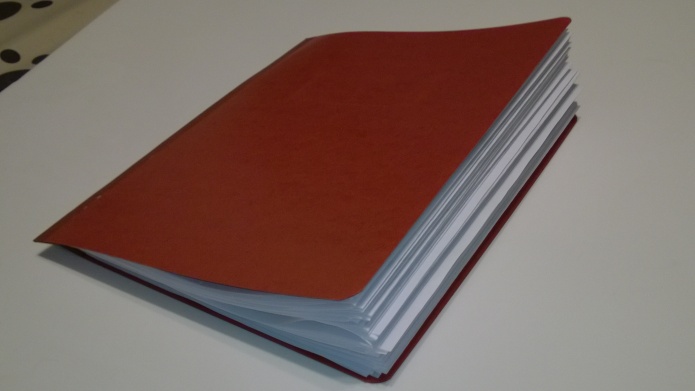 Anyway, I was busy all day today. While driving home I heard something on the radio that made me think someone was playing a little joke, and then forgot all about it. So when I finally finished that first book, I turned on CNN to find that the House Democrats have lost their tiny little minds and have been having a childish temper tantrum all day. If you've somehow failed to hear, they've been having a "sit in" in the House preventing work from going forward because they lost votes on their initial ideas about restricting the civil liberties of American citizens without due process. Take, for example, Senator Diane Feinstein explaining that it is up to Americans to prove their innocence, a complete reversal of more than 200 years of American jurisprudence. She then goes on to say that that's just the first step; next comes banning the average civilian firearm.
And the floor of the House looks like it has been invaded by an army of Trigglypuffs, shouting their inane slogans: "Why do you want to let terrorists buy a gun?" "No bill, no breaks!" And other such nonsense, like a bunch of idiot campus causehead protestors. At the same time they're yapping about wanting a Real Debate, they're shouting down anyone with an opposing view, like Louis Gohmert pointing out that the Orlando terrorist attack was, in fact, a terrorist attack:
Bah.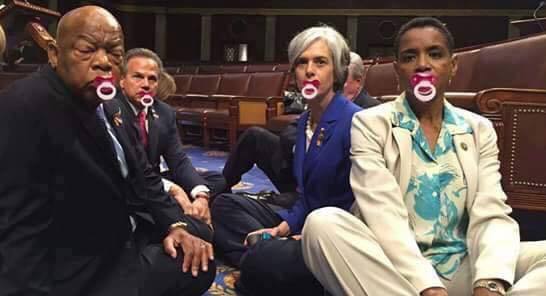 At left, Rep. John Lewis. He made his name in the 1960's working for civil rights; now he's working to curtail civil rights.
The reason I turned on CNN in the first place was to see the Libertarian town hall in hopes that maybe, just maybe, the Libertarians might give me hope this time around. But it was pre-empted by coverage of the Democrats House whine-in. It's very unlikely, but just barely possible enough that maybe there was some thought in advance to scheduling this childish display in order to wipe out one of the few opportunities the Libertarians have of reaching the public.
And apparently Nancy Pelosi is sending out fundraising emails. Even the talking heads on CNN generally agreed that this was "gauche;" the Dems claim they're doing this to protect families and children and puppies and baby unicorns, but it's really just a craven and monumentally cynical publicity and fundraising stunt.
Even Raedthinn can't stand these idjits, and he doesn't even watch CNN.