The far left went buggo under Bush, but has gone truly insane under Trump. With calls for violence against "Nazis," and redefining "Nazi" to mean anyone not on the far Left, it was only a matter of time before people like the fascists in Antifa and similar groups decided to step it up from simply assaulting people in the street to gunning people down. Well, here we are.
The shooter in this case was a dedicated Bernie Sanders supporter and vehemently anti-Trumper.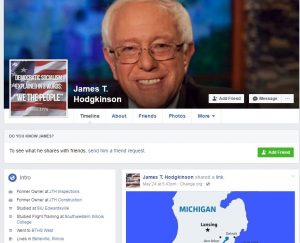 And because in this era of social media Everything Must Be About Me, I found these quotes especially interesting:
I met him on the Bernie trail in Iowa, worked with him in the Quad Cities area."
Orear described Hodgkinson as a "quiet guy" who was "very mellow, very reserved" when they stayed overnight at a Sanders's supporter home in Rock Island, Ill., after canvassing for the senator.
Yup. Home town area. Joy.
Remember during the 2008 campaign when Jared Joughner shot and injured a Democratic Representative (and *killed* a republican judge, but never mind him), the Dems and the media went through the roof blaming it on Sarah Palin and her supposed rhetoric? it'll be interesting to see if they do the same here. In fact, I kinda expect they will: in 2008, they blamed Republicans for violence against a Dem. Now, I expect they'll *still* blame Republicans (specifically Trump, I'll bet) for this violence. But even if they don't blame Republicans specifically, they are already trotting out the "blame the inanimate object" argument. As an example, here's the Democrat governor of Virginia, Terry McAuliffe, informing the public that ninety-three MILLION Americans are gunned down EVERY DAY:
An interesting note: the BernieBro opened fire with a rifle (I've not seen a description, but probably safe to assume it's an AR-15) and fired *many* rounds… and yet, killed nobody. He was a *terrible* shot. These socialist whackos might think they're going to start a new civil war but, man, I don't think it'd turn out well for 'em.