Some very interesting results reported in this presentation (PDF file).
The United States is typically reported as having a dismal health care system when compared to the rest of the world; the metric is, often enough, life expectancy, where the US falls to about 15th place. But is the lower US life expectancy due to the US health care system… or something else?
Many people die in ways that *no* health care system could deal with. Homicides and traffic accident, for instance, where death comes swiftly and with massive unfixable traumas. Now, if every nation had the same rates of homicide and traffic fatalities, then those would not be statistically important when working up life expectancy stats. But the fact is that the US has anomalously high rates of both murder and auto accident deaths.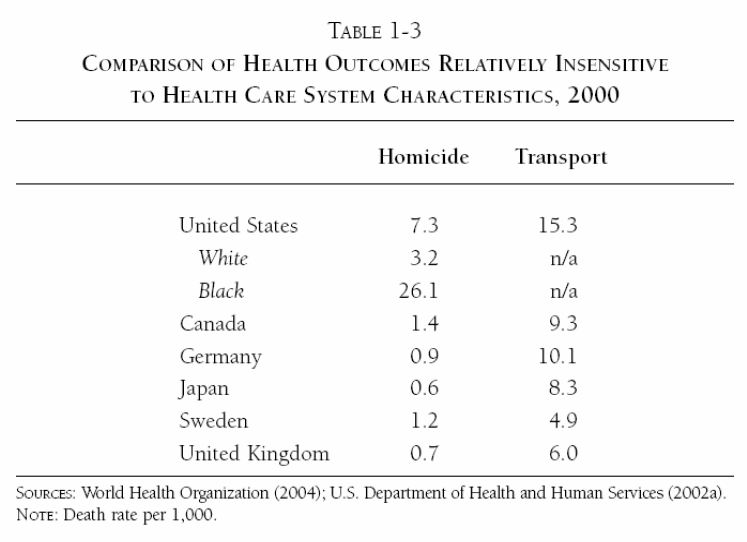 We die in more murders because there are pockets of America where the rule of law and respect for otherwise-accepted norms of behavior are not what they should be. We have more traffic accidents because we have more cars, and drive them further and more often than others. What happens when those deaths are factored out of the data? An interesting thing…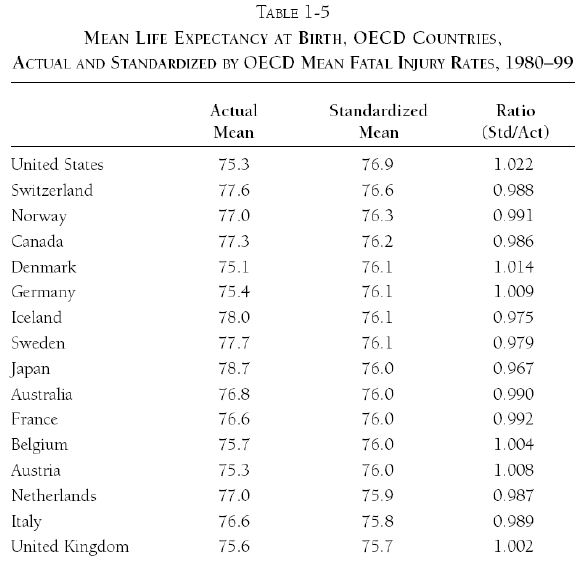 Another problem the US has is a higher than norm infant mortality rate. Why is that? Is that the fault of the health care system? Well… there's another explanation:
A 2007 study done by Baruch College economists June and David O"Neill sheds some light on why U.S. infant mortality rates are higher-more low weight births. In their study, U.S. infant mortality was 6.8 per 1,000 live births, and Canada's was 5.3. Low birth weight significantly increases an infant's chance of dying. Teen mothers are much more likely to bear low birth weight babies and teen motherhood is almost three times higher in the U.S. than it is in Canada. The authors calculate that if Canada had the same the distribution of low-weight births as the U.S., its infant mortality rate would rise above the U.S. rate of 6.8 per 1,000 live births to 7.06. On the other hand, if the U.S. had Canada's distribution of low-weight births, its infant mortality rate would fall to 5.4. In other words, the American health care system is much better than Canada's at saving low birth weight babies -we just have more babies who are likely to die before their first birthdays.
To find a really good comparative metric on health care, you'd need to find some problem that is is a "true" health care issue, one that hospitals and doctors can really have an effect on (unlike, say, murder). So… how about cancer? That's a problem that is generally not an immediate emergency (even aggressive cancers take months from inception to the time they kill), and can be dealt with by health care professional. So how does the US stack up?
It looks like if you have cancer, you want to an average American, or, better still, a white American. Granted, black Americans look to have it pretty bad. Now why *that* is can be laid at the feet of a great many issues, including an increased risk of being poor, perhaps cultural issues that would reduce your chances of going to the doc for early screening, perhaps racism in some shape or form.
Americans, it seems, die sooner than the rest of the industrialized world not because our health care system is "in crisis" or "needs reform," but because we tend to do more… well, dangerous things.