Some time back I kinda inherited a bunch of old magazines (you may be able to guess which one…). The idea was to sell 'em, but a bit of research showed that they have almost no resale value. Turns out, magazines that were printed in the millions and *not* thrown away didn't really become collectors items. Didn't help that the internet came along and, gee whiz, if you're looking for a certain kind of, ahem, portraiture, there are now easier ways to get 'em.
So, they've sat here taking up space. But being the student of history that I am, I looked through 'em all. And there were a number of interesting things. Perhaps most entertaining are the ads. Sure, most are utterly forgettable. But some… some kinda jump out at ya.
So, because why not, I'm starting a new category of posts: Antidote To Nostalgia. Nostalgia is an interesting thing; on the one hand it can be fun to think back on good times (or times that are remembered as good), on the other hand, it is a dandy way to get history wrong and screw up your future by focusing on the past at the expense of the future. So what will be posted are things that are cringeworthy. If you are nostalgic for the late 1960's-1970's (the era of the magazines), there will be a whole lot of men's fashion ads that should make you reconsider your priorities.
First up, though, is  an announcement for a piece of consumer electronics. There were always ads for electronics, but it seems they really began to ramp up towards the sort of electronics we know today starting in 1978 and really accelerating in 1979. This device from 1979, though, is a device that would be wholly useless, and largely incomprehensible, today: a calculator specifically to tell you how much a long distance phone call will cost. Counting for inflation, this thing would run you the equivalent of about $165, for a device that today would serve no purpose whatsoever.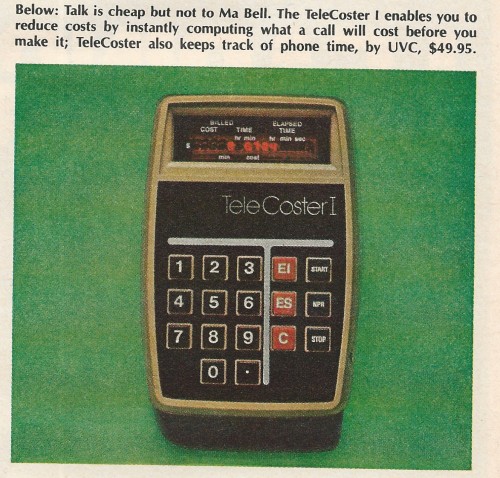 Yeah. In the late 1970's, it made sense to some people to blow a day or mores wages on something that would tell you how much a phone call would cost. Go ahead and be nostalgic for *that.*