Some weeks ago I was in bed asleep at something like 3AM when I was awakened to the sound of a bear trying to claw his way into my house, just outside my bedroom. After a few seconds of bleauuurrrgh as I woke up, I realized the crazy sound was real. So I grabbed the flashlight, the cell phone and the 1911, sneaked around to the front of the house and stepped out the front door. What I found was, instead of a bear, a whole friggen *army* of racoons who had taken a sudden interest in my place. Half a dozen of them were in the process of actually climbing my walls, right outside my bedroom. Another was climbing up a post on my porch, about 4 feet in front of me. Many more were milling about in the yard. When I turned the light on 'em they got angry; fortunately they got spooked when I yelled at them and ran off. Good thing, too. Not sure what .45 hollowpoints would do to a raccoon at 4 feet, but I'd bet there'd've been a mess.
About a week later I heard screaming late at night. It was some sort of critter, but it was loud and relatively close. Once again, phone, flashlight, .45. The screaming was coming from an open farm building across the road; when I turned the light on it (one of those nifty cheapo 500 lumen lights), eyes looked back at me. *Lots* of eyes. Couple dozen of 'em. I figured it must've been Raccoon Fight Club, something I wanted nothing to do with, so I started back. On my way I walked along the field of corn I swept the light along it and saw a face looking back at me. One with lifeless eyes. Black eyes. Like a dolls eyes. After the initial startlement, I figured out what it was. Took photos the next day, including this craptacular cel phone shot: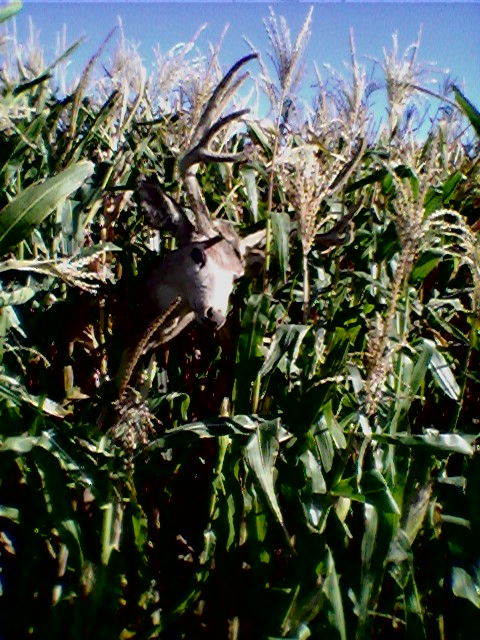 Someone hung a  stuffed deer head in the corn. Awesome. Just a little disturbing at 3 in the damned morning on a pitch-black night with screaming hordes of angry critters. Critters that, I noticed, had spilled out of the farm building and followed me home. As I approached my front porch I heard something, swept the light back across the road to the corn, and saw that army of raccoons spilling out of the corn and swarming across the road at full gallop, heading my way.
Juuuuuuuuust a little odd.