Every few years I re-watch the whole "Babylon 5" series on DVD. As it was a relatively low budget show that started twenty years ago, a lot of it can be fairly said to be a bit dated an creaky. A lot of the effects are, by todays standards, kinda weak; some of the sets were kinda lame; some of the acting, especially in the first season, was bad; and a lot of the dialogue is just a bit painful. Still, it was a smart show that broke new grounds in the use of CG effects, as well as breaking TV sci-fi out of the "Star Trek" mode where nothing happened in the course of an episode to change things. You can watch Star Trek and TNG in pretty much any order you want; it doesn't matter. But B5 had over-arching story arcs, the stories advanced and changed from episode to episode, characters died and new ones were introduced and changed over time. At the time, I heard many complaints of it being like a soap opera in that regard; but had not B5 established the concept, there would not have been shows like Deep Space Nine, Enterprise or Battlestar Galactica.
I just finished watching the series again, finishing with the series finale "Sleeping In Light." Another way that B-5 was different: the TNG finale made me go "meh." The DS:9 finale made me shrug and somewhat sad to see it go. The BSG finale irritated the hell out of me. The Stargate: SG1 finale just sorta faded away. But the B5 finale, "Sleeping In Light," remains an astonishingly emotional hammerblow of an episode. Nothing much really happens that you didn't see coming; much of it was telegraphed, some of it as far back as the first season. And yet, it was a hell of a thing; reportedly the cast and crew had a hard time filming it since they were themselves screwed up by it. When it aired, fans across the land reported being converted into horrible gelatinous blobs of sadness by it.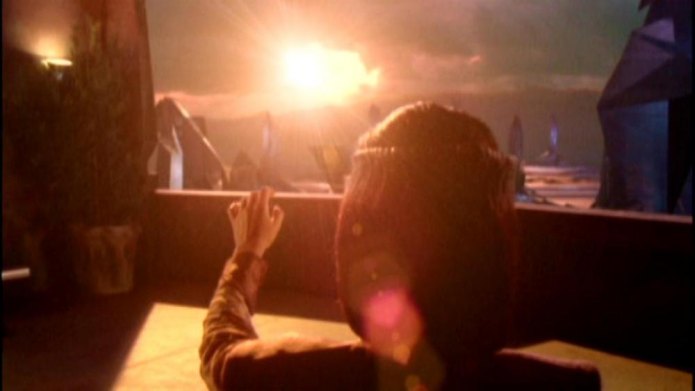 No boom today, but boom tomorrow – there's always a boom tomorrow. All love is unrequited. Human style is superior.